Our company
The fundamental beginnings of Poolymar Swimming Pools, props of his quality politics, are the following ones:
OUR CLIENTS' SATISFACTION.
OUR PERSONNEL'S SATISFACTION AND MOTIVATION.
To improve continuously our processes as our operative yield this way to satisfy the expectations of the persons who trust in the products and services of Poolymar Swimming Pools. To avoid the deviations of the requisites implanting processes and systems of personnel training that prepare the defects. Finally, Poolymar Swimming Pools has strategic excellence hardware to be implanted like one of the top companies of the sector.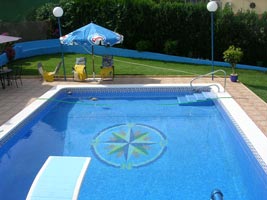 Poolymar Swimming Pools is adherent member to the QUALITY CIRCLE of the Official Chamber of Commerce, Industry and Navigation of Huelva
© Poolymar Swimming Pools. Tel. 959 318 520 | FAX 959 318 520 | Mobile: 617 448 891 - 687 763 610. E-mail: poolymar@gmail.com | Legal Notice