Spas, covers and casings
Poolymar Swimming Pools is provided with professionals specializing in the installation of all kinds of covers. Innovative products on safety that facilitate a notable saving in general expenses.

The automatic cover covers all the swimming pool and is gathered or extends easily thanks to the motorized reeling machine that it incorporates.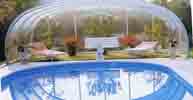 Telescopic cover, sliding on itself, consists in panels of cellular polycarbonate assembled in a profile construction of anodized aluminum.
Poolymar Swimming Pools is adherent member to the QUALITY CIRCLE of the Official Chamber of Commerce, Industry and Navigation of Huelva
© Poolymar Swimming Pools. Tel. 959 318 520 | FAX 959 318 520 | Mobile: 617 448 891 - 687 763 610. E-mail: poolymar@gmail.com | Legal Notice