Swimming pools: typology
Smoothed concrete Swimming pools
The smoothed concrete "Gunite" assures all the watertightness guarantees.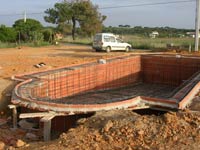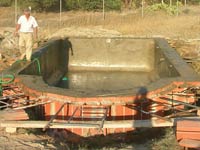 Stainless steel's panel's swimming pools
A big variety of swimming pools prefabricated with galvanized steel's panels guarantees a lasting and versatile swimming pool, adaptable to any type of area. The panels are covered by an impermeable material, the "líner", who assures the watertightness of the glass of the swimming pool. Diverse forms and dimensions to your disposal.

What is líner?
Made of polychloride of vinyl of big resistance, which assures the entire watertightness of your swimming pool. The liner places himself thanks to a system of fixation that allows us a rapid and economic assembly. Its principal target is of containing the water. Poolymar Swimming Pools has the better quality liner of the market, thanks to his characteristics we assure the nonexistence of bacteria, molds and oxidation. The surface is very agreeable, smooth and comfortable. Election of colors and exclusive motives. You will be able to personalize your swimming pool, here is what you want.



Polyester swimming pools
Swimming pools characterized by reinforcements, real compensating arms towards profiles especially studied to annul all the pressures. The reinforcements award to our swimming pools a big rigidity, safety of guarantee and calmness.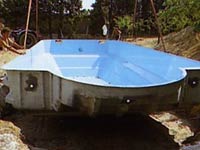 They bear all of them finally to enjoy a swimming pool characterized by the durability, resistance, easy cleanliness, diversity of forms and finished perfect one.
Bottom typology
Smooth botttom
Designed especially for the swimming, adapted for the enjoyment of children and adults. It is recommended for small volumes. You choose the smooth bottom with the depth that you prefer.
Depth bottom
Your swimming pool can have two different depths, combining a smooth fund and a fund with difference. You choose the depths that you prefer.
Big depth bottom
Are you sports, do you have any relative or friend who it is? The bottom with big depth is ideal for the most sports, you will be able to have an area with the necessary depth.